We are continuing to see patients and respect their and the nation's health through Covid. Your health and safety are our priorities.
To keep everybody safe and ensure we comply with legal, regulatory, professional, health & safety and insurance requirements, we have implemented a number of temporary changes to our practices.
Important Re-opening Information
Appointment Request
Please call or email the clinic to request an appointment . We must carry out a documented screening process to decide which appointment type is appropriate for you .
Virtual First Registered and regulated physiotherapists , under current guidelines ,are permitted to carry out face to face appointments if it is urgent (and prevents them seeing an alternate health care professional) and it is not possible to provide the treatment required virtually.
Any non-urgent or high risk patients should be seen virtually via video consultation.
Referral Pathway
Below you will find our physiotherapy clinic referral pathway for return to face to face following Covid-19.
Getfitphysio Ltd Covid-19 Return to Face to Face – Referral Pathway v1.0.pdf
Covid-19 Standard Operating Procedures
Getfitphysio Ltd Covid-19 Alert Level 3 Standard Operating Procedure v1.0
Site Risk Assessment
Below you will find our comprehensive physiotherapy clinic site risk assessment for return to face to face following Covid-19.
Getfitphysio Ltd Covid-19 Return to Face to Face – Site Risk Assessment v1.0
Patient Consent Form
What we are doing to reduce COVID-19 risk
We have completed Covid-specific risk assessments for the business.
We are pre-screening patients before booking, and before arrival.
When you arrive for your appointment, you must wait outside the building until asked to enter.
Appointments are staggered to ensure you do not cross paths with another patient.
Chairs have been replaced with wipeable chairs.
Staff will not travel to/from work in their uniform.

We ask you do not bring unnecessary coats or bags into treatment with you.
You must attend alone unless an adult chaperone is required.
Chaperones will also be screened on arrival, and their personal details collected for contact tracing.
We will take your temperature before entry to the building is permitted.
You will be asked to wear a face mask . if you do not have a mask , one will be provided .
You will be provided with hand sanitiser on arrival.
Your therapist will be wearing a mask, gloves/ visor and apron.
The room is being cleaned before you enter and when you leave.
15 minutes is left between patients to ensure thorough cleaning of the room .
These changes are temporary and will change with time .
We are here for you so please let us help !

WHAT HAPPENS WHEN YOU BOOK AN APPOINTMENT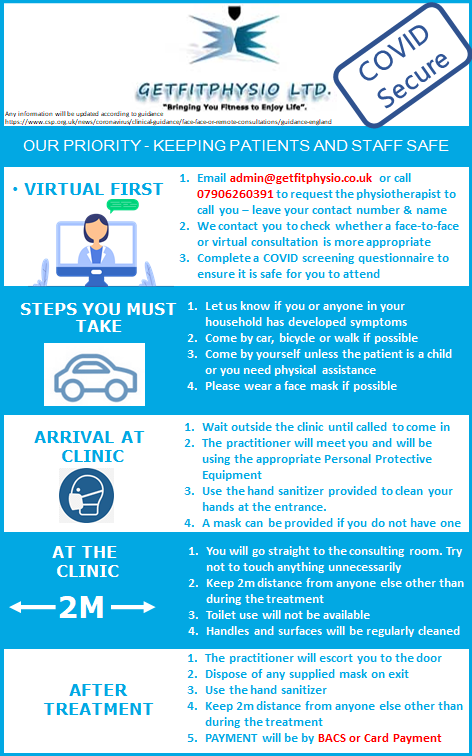 Downloadable documents