Lyndsay says……..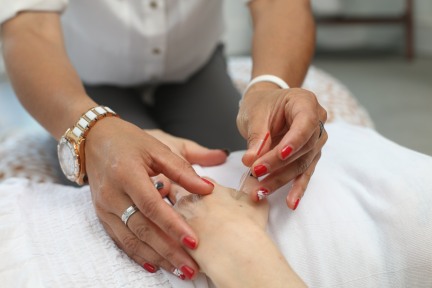 SO HOW DOES ACUPUNCTURE WORK?
Acupuncture originated from China 2,000 years ago it became more widely used in the Western world from 1970s.Acupuncture involves the insertion of small sterile needles into the skin.
The YIN & YANG
The Chinese believe that we have a flow of energy in our bodies called the Qui this energy flows around the body through channels called meridans lines which are located along the nerve root pathways. The Chinese state that the bodys' natural health & wellbeing is governed by the balance between two types of energy the "Yin and Yang" if these are balanced the body is healthy and well and there is harmony in the body .
WHAT DOES THE ACUPUNCTURIST DO?
After assessment the acupuncturist can evaluate whether there is an imbalance in the two types of energy within the patient and then uses certain specific points along the meridian lines to insert the needles to help the energy flow to those areas so the bodys' balance of energy is restored to normal and thus return the body to health and wellbeing .
WESTERN WORLD'S EXPLANATION OF ACUPUNCTURE
We know that the physiological effects of inserting needles into the skin increases the blood circulation to that area this is because your skin is highly sensitive and innervated it protects your body from the outside world . When acupuncture needles are inserted into the skin the body reacts thinking it is being invaded and increases the blood flow to that area to bring in the healing products to that area to protect itself from damage .Generally pain is caused by inflammation pressing on nerve endings so the increase in blood circulation helps to take away the inflammation therefore reduces the pain .
ENDORPHIN RELEASE
Acupuncture also has the effect of increasing your endorphin release from the brain – these are our natural pain relievers and they also make us feel better generally. These are released too when we exercise that is why you always feel better mentally and physically afterwards. (MRI scans were taken with patients having acupuncture treatment and the area in the brain which releases your endorphins was twice as active compared to normal)
So acupuncture has a two pronged effect on reducing pain!
PHYSIOTHERAPY AND ACUPUNCTURE
Physiotherapists treat a wide range of both musculoskeletal and non-musculoskeletal conditions using acupuncture.
Physiotherapists, through their medical training and post graduate practical work, have an excellent understanding of the body's functioning. Members of the Acupuncture Association of Chartered Physiotherapists (AACP). Physiotherapists are the largest group of medical professionals in the UK practicing acupuncture.
Getfitphysio have been practising acupuncture for 27 years and are members of the AACP.
---
WHAT CAN YOU USE ACUPUNCTURE FOR?
It is said to be useful in addressing a variety of health conditions, including:
Back pain
Knee pain
Arthritis
Chronic pain (such as headaches, back pain, neck pain)
Migraines
Tension Headaches
Sciatica
Menopausal symptoms
Anxiety and Depression
Cessation of Smoking