Lyndsays guide to physiotherapy…………..
Physiotherapy is a treatment that helps you to achieve your goals by restoring, maintaining your mobility, function and well being. Whether you want to get down on the floor to play with your Grandchildren in comfort or take on the challenge of a marathon physiotherapists are there to support and encourage you with each step you take. Treatment takes on a holistic approach physiotherapists will adapt their treatments to tailor to your needs, whether it be hands on manual therapy, exercises, advice, electrotherapy & acupuncture or a combination of these treatments. Physiotherapists actively get you involved in your own recovery.
What are the benefits of physiotherapy ?
Physiotherapy helps people of all ages who have medical conditions, illnesses or injuries that hinder their ability to move and function. Benefits include:
Reduce pain
Improved mobility, reduced stiffness providing better function
Recovery from sports injuries and prevention of recurrence
Promote healing and avoidance of surgery
Management of age related health problems
Improve balance and prevention of falls
Prompt return to work by providing workplace assessments.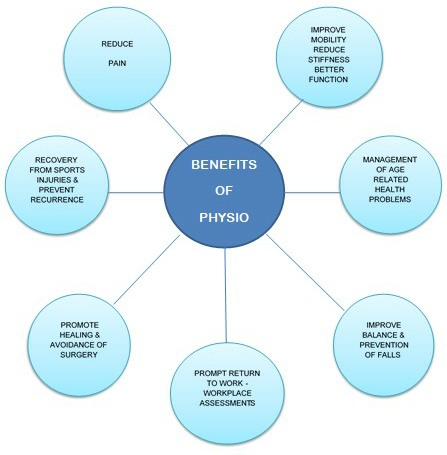 What does Physiotherapy involve?
At your first visit with the physiotherapist you will receive a comprehensive assessment where the physiotherapist will take a detailed history of your injury and will perform a physical examination . The results of the assessment will allow the physiotherapist to prepare a personalised treatment plan and discuss with you the treatments that can be used to get you back to full fitness so you can achieve your goals .
The wide range of treatments and techniques used by the physiotherapist are evidence-based . A physiotherapists area of expertise is body movement and function this enables them to diagnose, treat and help prevent recurrence of injuries or health problems that would limit your every day living and hobbies. So you can keep doing the things that you love and enjoy.
What conditions can Physiotherapy help with?
Spinal and Postural Problems Back and Neck pain
Hip and knee pain injuries
Shoulder, elbow ,wrist and hand pain
Sports Injuries. ( muscle strains, Ligament sprains) Tendinopathy Biomechanical and Overuse Injuries – Running problems
Work related injuries ,repetitive strain problems.
How do I book a Physiotherapy appointment?
To book your first appointment with us, just get in touch via our contact form
We operate from two locations one in Telford and the other in Wolverhampton.
Clinic Addresses:
Will close from 26th May 2021 – Lawley Medical Practice, Farriers Green , Lawley, Telford, TF4 2LL. MAP
Hilton Hall Business Centre , Hilton Lane, Essington , Wolverhampton, WV11 2BQ. MAP
Why Getfitphysio?
No waiting list
We are able to get you on the road to recovery within a few days.
No GP Referral
No need to wait to get an appointment with your GP if you are in pain or have an injury you can book directly with a physiotherapist .
Experienced Physiotherapist
Our physiotherapist has more than 30 years of experience treating patients so has a wealth of knowledge to share and help their patients achieve their goals .
Convenient Appointment Times
Evening appointments available at both clinic locations making it easier for you to attend out of working hours .
Recognised by Major Insurers
We are recognised by most major healthcare insurers , BUPA , AXAPPP ,SIMPLY HEALTH , CIGNA and others .If you are unsure the physiotherapist would be happy to discuss this with you .