WHAT DO OCCUPATIONAL HEALTH PHYSIOTHERAPISTS DO?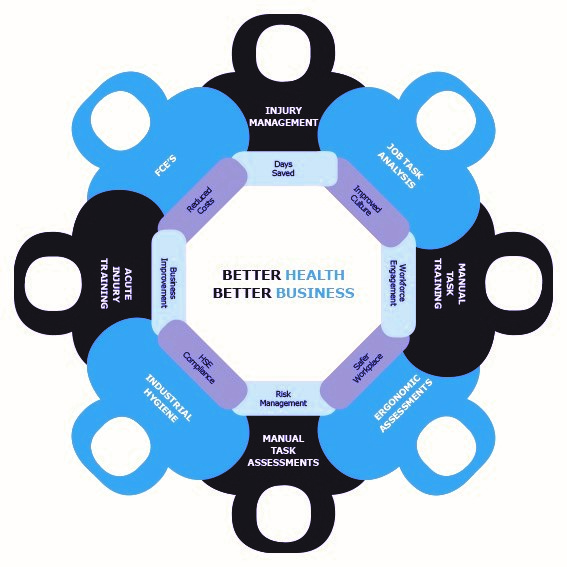 Occupational Health Physiotherapists work to maintain a fit and healthy workforce so that they can do their jobs efficiently and effectively. They work to make work tasks comfortable and safe using work design through ergonomics. Physiotherapists who undertake qualifications in Occupational health are members of the Association of Chartered Physiotherapists in Occupational Health and Ergonomics. An ACPOHE Occupational Health Physiotherapist typically can produce a return on investment for an organisation of £3 for every £1 spent.
WHERE DO THEY WORK?
ACPOHE members work in the following settings: – Manufacturing, NHS, Service Industries, Offices, Retail, Healthcare, Ergonomics Consultancies, Public Sector and Private Practice. They improve the safety, comfort, and performance of the working population to reduce accidents and sickness absence, improve productivity and performance. Preventing ill health and promoting healthy working practices provides significant benefits to both employers and employees.
WHAT ARE THE BENEFITS TO EMPLOYER AND EMPLOYEE?
As an employer if you have a fit, healthy and happy workforce your company will benefit from increased productivity and improved staff morale which will give the reputation that your company is a good employer. Provision of an Occupational physiotherapy service shows your employees that their organisation is fully supporting them at work as they have wanted to provide this service for them.
WHAT ASSESSMENTS DO THE OCCUPATIONAL HEALTH PHYSIOTHERAPISTS DO?
Occupational Health Physiotherapists treat musculoskeletal work-related injuries, but they also carry out workplace assessments, DSE assessments (Display screen Equipment – workstation), functional capacity assessments. They advise companies on return to work plans for employees so they can get back in a timely manner, in a monitored graduated way if they have been absent due to sickness or injury .
Their main aim is that both the employee and employer feel each visit to the physiotherapy service has been a valued, informative, positive, and supportive experience.
WHAT EXPERIENCE DOES OUR OCCUPATIONAL HEALTH PHYSIOTHERAPIST HAVE?
Lyndsay has been an Occupational health physiotherapist for over 20 years working in the corporate sector for a chemical and manufacturing company. She treats employees musculoskeletal disorders and assesses their capacity to perform their job role, and if required advises the organisation on working adjustments and recommendations to help support the employee to carry out their job role effectively .She is a member of the ACPOHE who regulate the professional standards required to work within occupational health .
Lyndsay's work is onsite for the two companies mentioned however she works for several independent occupational health providers in the community providing DSE and workplace assessments. It is in this role that she travels to carry out the assessments in the employees' work environment.
Functional capacity assessments are where more manual tasks carried out by employees are assessed. These assessments take place at her two clinic addresses.
HEALTH PROMOTION IN OCCUPATIONAL HEALTH?
Health promotion is considered an important role for an Occupational Health physiotherapist they will advise employees on how best to improve their wellbeing and make the most of their lifestyles to improve their overall fitness which will help prevent work related injuries and also improve life away from work .